The matt black kitchen
The popular exposed concrete trend has set the tone...or rather the material: we want things matt!
We love this understated mineral look and the muted ambiance it instantly gives a room.
Raw, elegant matt black has an industrial feel, giving a kitchen lots of character!
It also has a handy bonus: the matt texture hides imperfections... We would definitely choose it for easy upkeep or to customise an old kitchen with a chic vintage look. Matt: 1 Gloss: 0
The black and white kitchen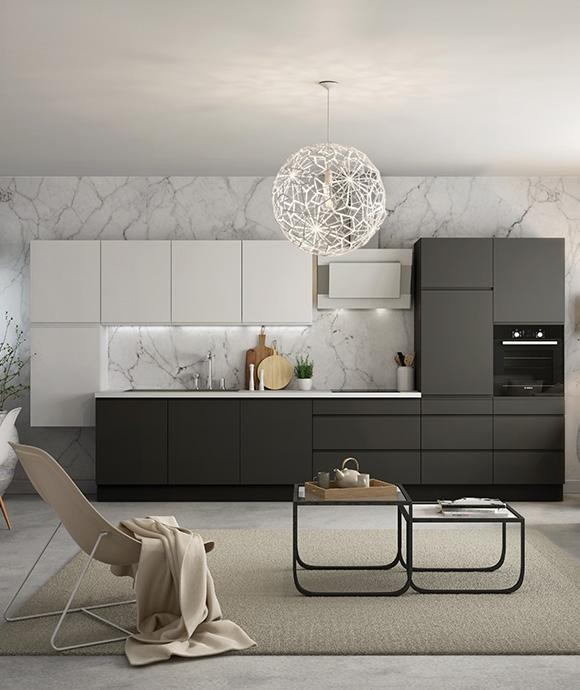 Can't choose between these two shades? Opt for a black and white kitchen for flawless results!
With this timeless style, you can get away with any eccentricity. We play with materials and pairings: painting a brick wall white and the one next to it matt black, and adding a few touches of light wood to create a stylish and original kitchen that's beautifully welcoming.
It's over to you to accessorise with black and white photos, industrial-looking objects and items made of aluminium, glass, and raw and natural materials to maintain the modern feel.
You can also make the most of each colour by putting dark shades at the sides to make the space look bigger and add some interest with the striking white bar. Add a few accessories...black ones, of course...and your work here is done!
Yellow is the new black!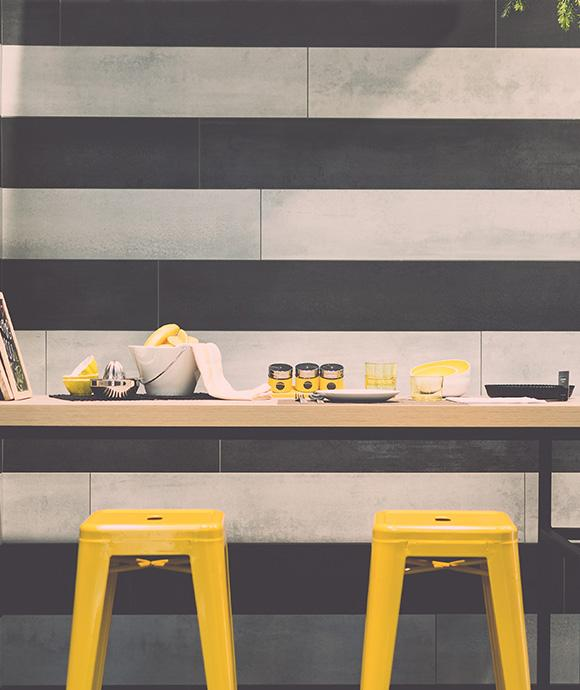 Black kitchens also make ideal backdrops for contrasting explosions of bright colour!
The current biggest trend is the black and yellow kitchen. Try this contrasting colour pairing!
The yellow peps up the black total look, while the black calms the vibrant yellow.
With options to pair with matt black including glossy yellow, bright yellow and mustard yellow, you have plenty of choice.
Carefully select materials, furniture and accessories: black and yellow metal lights on graphic black and white walls will give your kitchen a colourful, ultra-modern look!
Browse all our fitted options to find the kitchen of your dreams! If you'd like some help with your project and imagining how your future kitchen will look, book a meeting with our experts.